BaysiccDesigns doing it BIG!!!!
We are proud to have & rep BaysiccDesigns skills on PumaTalk. BaysiccDesigns is based in the Bay Area, California – they customizes sneakers a little differently than everyone else.
Here's how it started – Just two guys that had an idea for our sisters' birthday to give her some glitter shoes. Next thing you know everyone wants a pair. They never customized shoes before but since their first pair of customized kicks they can't stop! Since so many people wanted them, they decided to expand and go online and now its hitting the streets everywhere.
They customize all kinds of kicks adding a colorful & fresh look to kicks – here's what they had to say "Some cant see themselves wearing glitter made shoes, while others "Go Crazy" over them." Check out their customized PUMA Sky Hi's.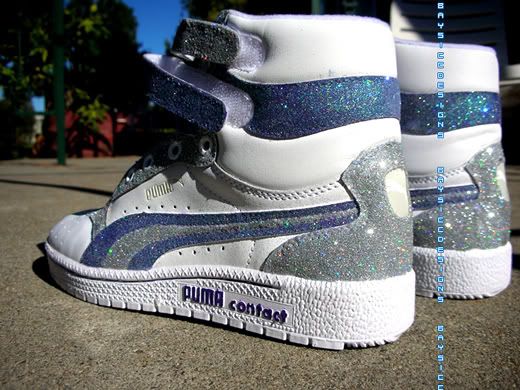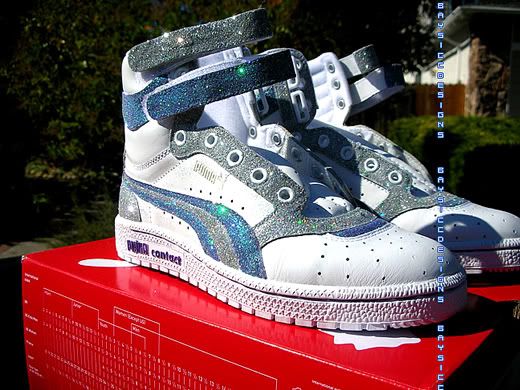 Here's how it works:
They start off like this (Plane JANE)

You get your custies reactions (like this – "Ohh my GOD")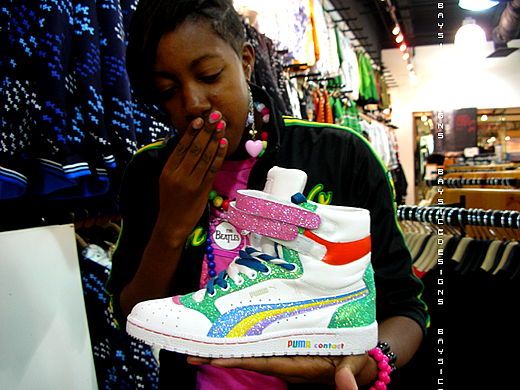 Finaly, your sneaker arts is being repped in the streets… (mad LOVE)

Here's their website: BaysiccDesigns.com
Add them on MySpace: myspace.com/BaysiccDesigns